3. "Dewa Pechil A Mak Yong Tale Told By Ali Bin Ibrahim" translated in English by Dr Patricia Hardwick
Dewa Pechil is an ancient Mak Yong story.
It tells about an isolated demigod,the rightful sovereign without wealth who is banished from his kingdom, separated from his wife, and wanders the land in search of a spiritual home.
Sakit berangin patients who feel alienated from society and misunderstood by their community often identify strongly with this story. In a healing performance, the story opens the floodgates of emotion and provokes a deluge of weeping.
In the words of Ramli Ibrahim:
"Dewa pechil is a Malay archetype. He is complex as he is very sensitive. But when he leaves, the nation is bereft of "seri". He is the kind of person who always merendahkan diri, (appears) to want to be in the background. This is one aspect of the Melayu that I find endearing, and at the same time exasperating. Not pushy, very accommodating, affectionate and loving."
About Mak Yong
Mak yong is a deep and complex ancient art.
Mak yong is a Malay dance-drama tradition found primarily in Kelantan, northern Terengganu and the greater Pattani region of Thailand. A performance includes dancing, acting, singing, and storytelling. Ritual is an important aspect of Mak Yong. Some performances are carried out to fulfill special ritual obligations or for purposes of healing.
In Mak Yong, women have major roles including playing male characters, while men participate in minor roles and as musicians. The principal roles are pak yong (lead male character), mak yong (lead female character) and peran (clown or attendant).
The repertoire consists of 12 main stories that narrate the adventures of mythical heroes, including Dewa Muda, Dewa Pechil and Anak Raja Gondang.
For Mak Yong healing ceremonies, it is the stories of dewa (demigods) that are most often performed.
A patient suffering from sakit berangin (illness of the inner winds) may identify strongly with a particular mak yong story and is said to have angin (temperament) of the protagonist - for example, angin Dewa Muda or angin Dewa Pechil.
The patient is encouraged to dress up in resplendent songket, beaded lattice necklace and tanjak (headdress), and "play out" the complexities of the character in order to flatter, tease and give expression to and heal their trapped angin.
Read here how Mak Yong performances heal patients and about the modern keepers of this ancient art.

In 2005, Mak Yong was designated a Masterpiece of Oral and Intangible Heritage of Humanity by UNESCO, and included in the Representative List of the Intangible Cultural Heritage of Humanity in 2008.
Quoting from an informative article "Healing spirits of Malay traditional dance" by
Datuk Dr Mohamed Ghouse Nasuruddin, Emeritus Professor of Performing Arts in the School Of Arts at Universiti Sains Malaysia click here to read more
"The Malay performing arts have long been steeped in healing rituals that aim to bring about a balance in life.Several of these traditional healing rituals are direct off-shoots of traditional theater, such as Makyong, Wayang Kulit, Menora and Mek Mulung…
The healing rituals use the performance elements of music, dance and drama (role play) with the presence, and sometimes participation, of an audience. And these ritualistic healing ceremonies are conducted, by way of performance, to heal as well as to entertain…
It is a sight to behold when the movements combined with the accompanying music within the ritualistic decorated healing space create both physical and mystical ambience, culminating in the trance state that signifies the presence of the ethereal being. It is unlike any normal illusory stage performance…"
About the Translator

Image source: AMINEF
Patricia Ann Hardwick is an anthropologist, folklorist, who is a Research Associate-in-Residence at Hofstra University. She holds a dual PhD in Folklore and Ethnomusicology and Anthropology from Indiana University, Bloomington.
Dr Patricia Hardwick is a dedicated researcher of Mak Yong, its symbolism and traditions. She has many publications on this subject, click here to read some of them In 2019, Dr Patricia Hardwick, a Fulbright Scholar to Indonesia, gave the lecture entitled "Sebutir Pinang Muda Belah Dua, Di Bagi Empat: Mak Yong in Transnational Perspective" on the occasion of the event organized by Universiti Malaysia Kelantan (UMK) of Kelantan State in honor of an Library exhibit
in honor of an exhibit at the Kelantan State Library. Source
Dr.Norzizi Zulkifli, Tengku Sadiah binti Tengku Muhamad Satar, Nina, and Dr. Patricia Hardwick. Photo credit: Dr Patricia Hardwick

The part of this lecture in Malay is available here
The Dewa Pechil tale teaches we cannot succeed alone. The loyalty of Cemara Bermas and her followers are needed for Dewa Pechil's revival. Through the efford of this heroic princess and her followers, Dewa Pechil is restored. The story reflects important values of loyalty and community support as essential for a meaningful life. This tale shows that empathy and altruism counter greed and self-interest. For non-Malay readers, the story will introduce traditional Malay cultural values. For Malay readers, children and adults alike, it is a message from ancestors about how to be Malay.
4."The Colour Of Inequality" by Muhammad Abdul Khalid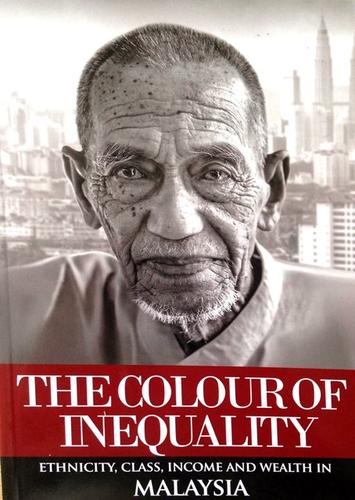 "Malaysia is a country forged in the trauma of poverty and racial suspicions with a legacy of stark inequality of wealth along racial lines" Muhammed Abdul Khalid.
This book provides an analysis on the wealth inequality among the different races in Malaysia.
There are 6 chapters including:
1. Introduction and Background
2. Malaysia's Historical Economic Inequality and Race Relations
3. The Assets Ownership
4. Why The Gap
5. The Way Forward
6. Conclusion
The timeline development of Malaysia's historical economic inequality and race relations is divided into:
(1) Pre-Colonial Malaya (1400-1785)
(2) British Colonial Period (1786-1957)
(3) The Dawn of Independence and Bloody Racial Riots (1957-1969)
(4) New Economic Policy (1970- present ).
Despite tremendous increase in national income, the wealth gap in Malaysia is alarmingly high and extremely skewed. For instance, the top 0.2% of depositors in ASB has about 1,133 times more than the bottom 80% of depositors combined.
Malaysia's income gap has not changed much from 1957 levels, when the country first gained independence. And this gap is huge with approximately two-thirds of Malaysian workers earning less than RM3,000 per month, and about 90% of Malaysians have nearly zero savings.
The current policies are not facilitating improvements in this wealth gap, which could lead to aristocracy where birth, not hard work or talent and effort, matter the most in wealth accumulation.
About the Author
Image source

Dr Muhammed Abdul Khalid is the Director of Research at a local think tank in Kuala Lumpur. He was formerly the Head of Economics for a capital market regulator; a senior analyst at the Institute of Strategic and International Studies (ISIS) Malaysia; a Research Fellow at the Institute of Malaysian and International Studies (IKMAS) of Universiti Kebangsaan Malaysia.
This book offers possible solutions that can be introduced to ensure that economic growth is equitably shared, which is vital for a stable and prosperous society.
Quoting Dr Abdul Khalid:
"Unless bold and drastic actions are taken urgently, a harmonious future for Malaysia is uncertain. There must be an urgency to give every Malaysian economic security, a better and sustainable future that is essential for a stable, harmonious and prosperous society."
TO READ Top 10 Books to Read in November 2022 – A Treasure to Be Discovered. Part 1 CLICK HERE