1. "The Accidental Malay" by Karina Robles Bahrin
"The Accidental Malay", Karina Robles Bahrin's debut novel, looks at race and religion in Malaysia and how constitutional policies affect the individual.
It explores race, religion, and womanhood in a satirical tale.
In the author's words: "I wanted to explore how a policy could tear down a woman's life."
"I wanted to write a story that explored this issue of how Malays are classified or categorized in Malaysia. It's enshrined in our constitution, which is a little bit unusual because in most countries your race is not constitutionalised," Karina says.
"I am trying to talk about the implications of the constitutional policy on people, on individuals. When these policies were formed, you were looking at them from a macro perspective. But when you drill down, should there be exceptions to those rules, like in the case of this Chinese woman? Or, if you are a Malay and you become an apostate, not only are you not a Muslim anymore, you also are not Malay. Then what are you? I want to approach this from a very human perspective, that of someone who is coming in and being subject to that. I don't think I have written the story in a literary style. I want to make it accessible so people would have to consider this issue, but from a personal point of view." https://www.optionstheedge.com/topic/culture/karina-bahrins-debut-novel-accidental-malay-wins-2022-epigram-books-fiction-prize.
"The Accidental Malay" won the Epigram Books of Fiction Prize 2022; and Karina Robles Bahrin was awarded RM78,000 for her manuscript and a publishing contract.
She is only the second Malaysian winner after Joshua Kam's 2020 novel "How The Man In Green Saved Pahang, And Possibly The World".
The storyline of "The Accidental Malay" is about a Chinese business woman, Jasmine Leong, who wants to be the next CEO of Phoenix, her family's billion-ringgit company known especially for its bak kwa. But when Jasmine discovers she is actually a Malay Muslim, her newfound identity threatens to upend her life and ambitions.
Set in Kuala Lumpur and other areas of Malaysia, "The Accidental Malay" examines the human cost of a country's racial policies, and paints a portrait of a woman unwilling to accept the fate history has designated for her.
About the Author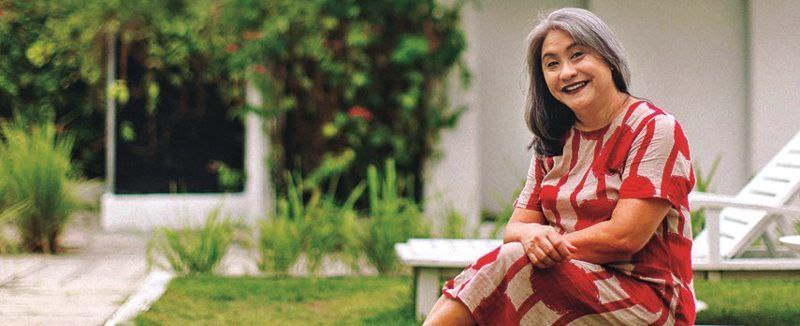 Pictures by Karina Robles Bahrin Instagram Facebook
Karina Robles Bahrin started as a writer when she guest edited a weekly teen column in The New Straits Times a very long time ago. Her short fiction has been published in venues such as Urban Odysseys: KL Stories, KL Noir: Blue, A Subtle Degree of Restraint & Other Stories and Malaysian Tales: Retold & Remixed. She is a former columnist with The Heat, a weekly by Focus Malaysia. She currently lives and works on the island of Langkawi, Malaysia. The Accidental Malay is her first novel.
Read more in this interesting interview with Karina Robles Bahrin about her and about what inspired "The Accidental Malay".
"The Accidental Malay" has got a constellation of impressive reviews
"Desire, religion and politics collide in this delicious début by Karina Robles Bahrin. Slick, sharp and full of the frustrations and joys of modern urban Malaysia, The Accidental Malay is a joy to read."
—Tash Aw, celebrated author of "We, The Survivors"
"An intriguing story, beautifully paced, centred around the many complications of love in Malaysia. Its truths will be controversial but there's no denying Karina's storytelling talent. A very enjoyable read."
—Marina Mahathir, writer and activist
"Delightfully transgressive, The Accidental Malay is a deeply nuanced study in the sometimes suffocating intertwining of race and religion for Malay-Muslims. Part comedy of errors and part social drama, this novel adds to the slowly burgeoning but altogether necessary postcolonial body of works on Malay people by Malay people. For regional readers, it needs to be on your must-read list to better understand thy neighbor. For international readers, it's a worthy read on race and identity."
—Suffian Hakim, bestselling author of "Harris bin Potter and the Stoned Philosopher"and "The Keepers of Stories".
"A sharply observed, elegantly crafted culture-clash state-of-the-nation drama that is not only witty but heartfelt."
—Amir Muhammad, author, filmmaker, publisher at Buku Fixi and EBFP 2022 judge
"A novel both generous and scathing; both honest and nuanced; both grounded in human emotion and engaged with history and politics. Most of all, The Accidental Malay is both entertaining and important, a fast-paced, character-driven, furious and yet somehow joyful exploration of Malay ethno-religious supremacy in Malaysia and its effect on real people's lives."
—Preeta Samarasan, author of "Evening Is the Whole Day"
"Braving the intersections and contradictions of race, class and gender, one woman's private campaign for self-definition becomes a search for love amidst corporate maneuvrings, familial pressures and the challenging complexities of her country's cultural politics."
—Cyril Wong, poet, fictionist and author of "This Side of Heaven"
"They say to never equate a writer to his or her book, as they are two separate things, but The Accidental Malay has Karina's gumption and bravado. This is a novel that is truthful, humorous, sharp and yet is an ode to Malaysia's political circus. Read this book and prepare to get angry, laugh and hoot at the outrageousness."
—Dina Zaman, writer and co-founder of IMAN Research
Enjoyable to read, this book is a wonderful addition to any personal library and it makes a great present for any Malaysian or anyone who is interested in this country.
2. "The Food of Singapore Malays: Gastronomic Travels Through the Archipelago" by Khir Johari
"The Food of the Singapore Malays:Gastronomic Travels Through the Archipelago" is a monumental work – more than 600 well-researched and illustrated pages.
Long 11 years of anthropological, and auto-ethnographic research which included culinary pilgrimage through Singapore, Malaysia, and Indonesia enabled Khir Johari to produce this OUTSTANDING volume, a treasure trove of 400 photographs of food and culture around the region and 32 detailed recipes for Malay dishes.
"The Food of Singapore Malays: Gastronomic Travels Through the Archipelago" reflects the dynamic and diverse make-up of the community, which was a melting pot of different traditions, influenced by trade and family linkages to the broader Islamic world of Southeast Asia, the culinary traditions of Nusantara, and far more distant regions – the food is a synthesis of cuisines from the Bugis, the Javanese, the Minangkabau, the Persians and the Hadrami, to name a few, as well as the Malays themselves. Read more here
The 32 recipes were photographed by Law Soo Phye who besides being an outstandingly talented photographer, has impressed the author with her deeply respectful attitude towards Malay culture and her nuanced eye for the aesthetics of Malay food. They were handpicked to illustrate the range and diversity of Malay gastronomy. Put it this way: it is a sweet and savoury degustation menu, designed to showcase the deliciousness of grains and vegetables, rice and noodles, meat and seafood galore, curries and consommé. These recipes range from the simple to the complex, and are representative of both ancient and newly minted recipes. Source
About the Author
Khir Johari ( Instagram ) was born and raised in historic Kampong Gelam, Singapore, in his family home Gedung Kuning, a treasure house of culinary knowledge and recipes. Khir studied mathematics at Santa Clara University, a Jesuit university in California. He then completed a Masters in Education at Stanford University. Since returning to Singapore, Khir has focused on research into the food cultures of maritime Southeast Asia. He relishes every opportunity to document oral histories and preserve objects of material culture such as old publications, artifacts, textiles and music. He was elected Vice President of the Singapore Heritage Society in 2016 to promote public education and advocacy. Khir enjoys writing articles and giving talks on history, heritage and culture.Source
When Kris Johari started his work on this book, 11 years ago, he was a schoolteacher in the California Bay Area. He was also in charge of the school's culinary club, and so often, when introducing his students to Malay food, he had to answer questions such as, 'Who are the Malay people?' and 'What's so Malay about Malay food?' And the questions were hard to answer.
What exactly counts as Malay cuisine?
Unconstrained by region or period, Khir's anecdotes tell of a journey through the archipelago to find the ingredients, dishes, and even nearly-extinct fishing gear that have defined Malay foodways. In Western tradition, there are 5 flavours in English—sour, sweet, salty, bitter, and umami.
Khir explains that the Malay language counts up to 11 distinct flavours—including lemak (the fatty savour of coconut milk), and kelat (the flavour of unripe fruit). Coming back to the flavour profiles of a cuisine are key—particularly because food changes over time, while retaining the history and traditions of Malays across the Nusantara. Source
"Food reveals who we are. Food has the potential to bring us together."

Khir Johari
Khir spoke too of the urgency of the project—during his 11 years of research, some twenty-three of the cooks, chefs, and cultural custodians he interviewed passed away. Each passing, he laments, is like the closure of a library, and we feel seriously told. Khir Johari's kaleidoscopic tribute to Malay cooking offers both a glimpse into its diversity, and also a taste of the the flavors and histories that unite it.
Image featured in "The Food of Singapore Malays: Gastronomic Travels Through the Archipelago" by Khir Johari: Dexterous hands rolling the batu giling.
WHO CAN TELL BETTER ABOUT THE BOOK THAN ITS AUTHOR?
Click here to read the story about "The Food of Singapore Malays: Gastronomic Travels Through the Archipelago" as told by Khir Johari himself
Undoubtedly, this book is destined to become a collector's item in the future.
There are hundreds of reasons to read and love this book and no one reason to miss the chance to own this treasure trove.
" The Food of Singapore Malays: Gastronomic Travels Through the Archipelago" will bring the enourmous joy of discover to readers, food lovers, chefs and simply everyone.
Imagine this book on the coffee table in our living room. Not only will it keep your guests enthralled and entertained but it is, in itself, an excellent conversation starter.
AVAILABLE AT RIWAYAT NOW, UNTIL STOCKS LAST
TO READ Top 10 Books to Read in November 2022 – A Treasure to Be Discovered. Part 2 CLICK HERE